2024 Hyundai Santa Fe: A Fusion of Urban and Outdoor Experiences
Introducing the 2024 Hyundai Santa Fe
Introducing the all-new 2024 Hyundai Santa Fe. Built on the "Open for More" concept, the Santa Fe redefines daily versatility. It seamlessly combines urban and outdoor experiences, both inside and outside the vehicle. The wheelbase has been extended which means the Santa Fe now offers third row seating, and it now boasts the most expansive cargo opening in its class, reminiscent of a "terrace" design. The 2024 Hyundai Santa Fe will go on sale earlier next year.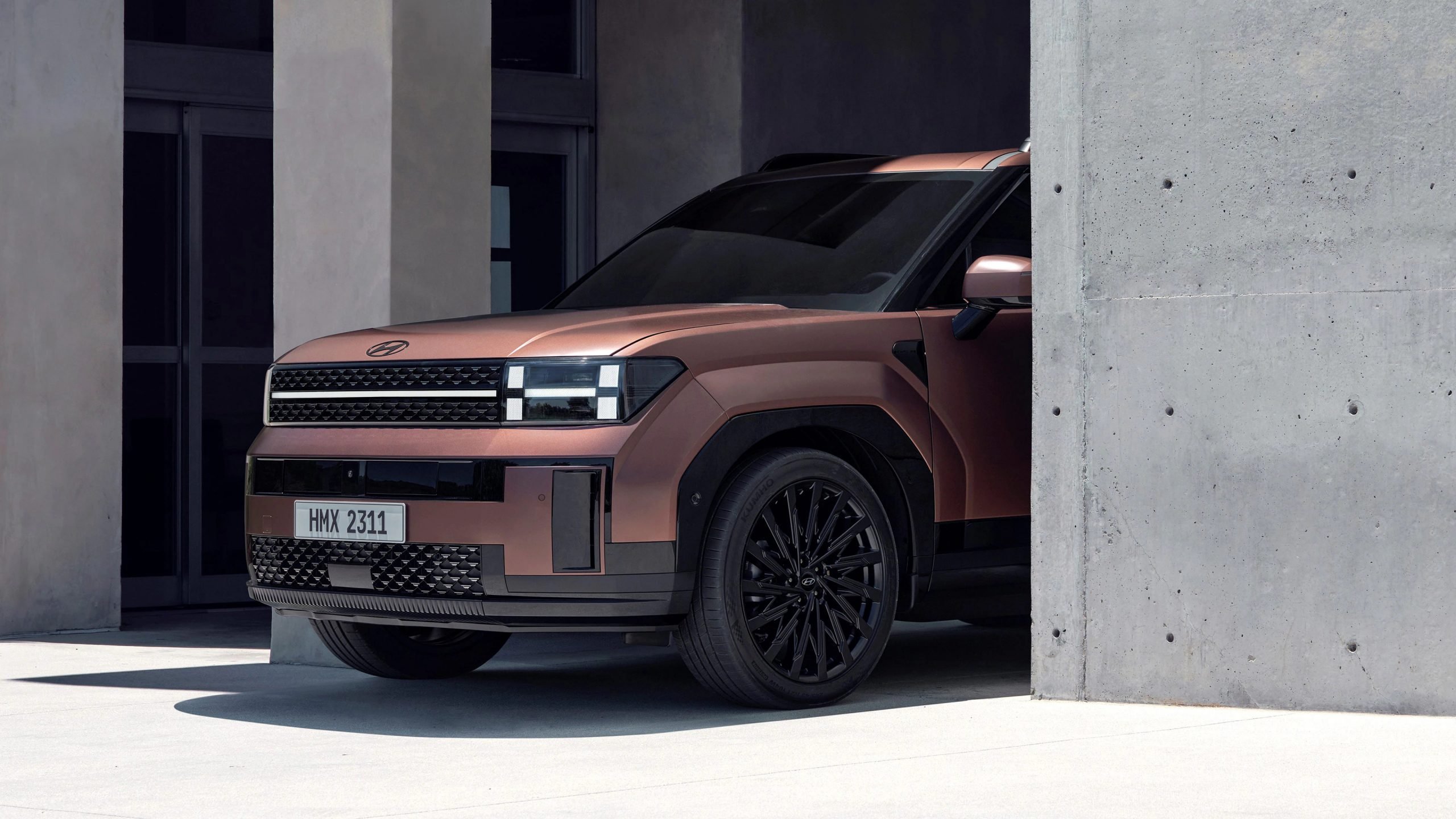 Brand-New Fifth Generation
The 2024 Hyundai Santa Fe has been redesigned inside and out, and it's certainly not hard to see where changes were made.
Rugged Exterior
Drawing inspiration from Hyundai's emblem, the Santa Fe's front is undeniably imposing. The raised hood, distinctive H-shaped headlights, and pronounced fenders create a bold first impression. Add in the extended wheelbase, sleek side lines, audacious roofline, generous fender spacing, robust wheel arches, shorter front overhang, and assertive 21-inch wheel design, and the Santa Fe truly stands out.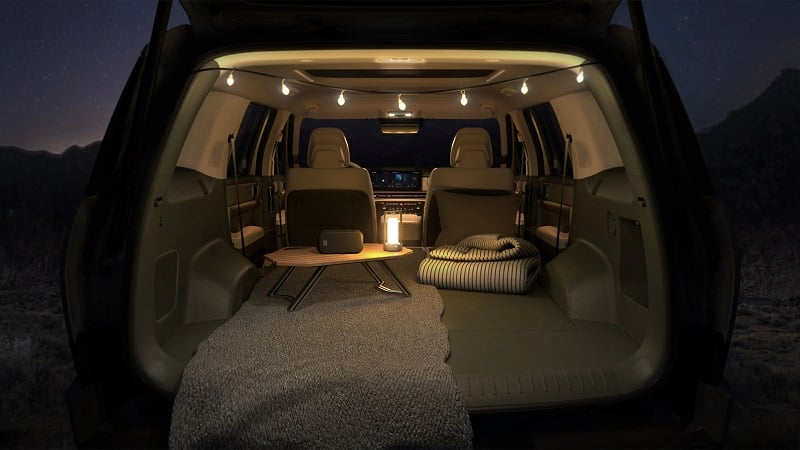 Spacious Interior
Hyundai has prioritized living space in the all-new Santa Fe. Not only does it offer best-in-class third-row comfort, but legroom in both the second and third rows has been significantly expanded. In fact, gasoline model's second-row legroom has increased to 1,075 mm. Plus, the SUV now offers the highest third-row headroom in its category.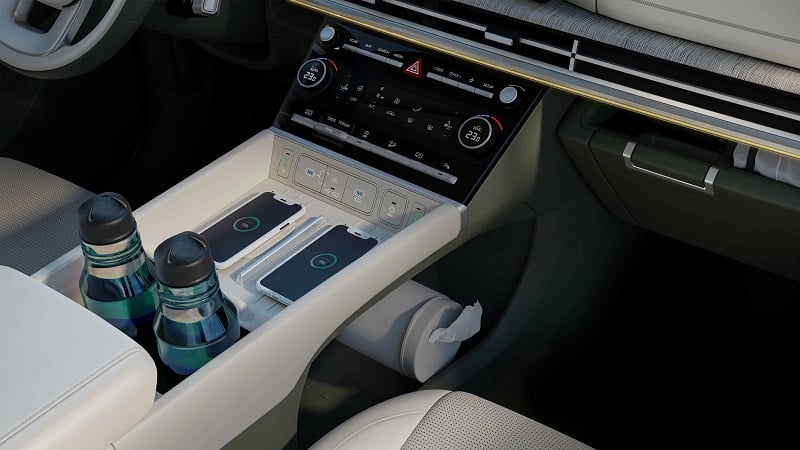 Comfort Redefined
Comfort takes center stage with the front relaxation seat featuring a leg rest, simulating a zero-gravity experience. In Korea, the driver's Ergo Motion seat is enhanced with air cushions for optimal comfort during drives. Temperature adjustments have become even more intuitive with a 6.6-inch touch-sensitive control. For those opting for the six-seater version, electrically inclined bucket seats in the second row guarantee rear passenger comfort, a world-first feature.
Key Benefits
Safety Reimagined
The Santa Fe is loaded with advanced driver assistance and safety features. These not only reduce the need for driver intervention but also enhance confidence on the road. With features such as the front collision avoidance assistant, lane-following assistance, and the first Driver Attention Warning for a Hyundai vehicle in North America, you can feel secure whether commuting or embarking on weekend getaways.
More Features
The Santa Fe is teeming with practical features like a high-speed dual wireless charging system for smartphones and a unique UV-C sterilization tray. Furthermore, over-the-air updates ensure the vehicle's systems remain updated without a visit to Hyundai service centers. The Digital Key 2 feature is another segment-first, allowing remote access and control of the vehicle via a smartphone.
Enhanced Cargo Space
With a cargo space of 725 litres and an opening of 1,275 mm, the Santa Fe offers more space than ever before. This is a notable increase from the previous model, ensuring you're ready for any adventure.
A Better Journey
The Santa Fe is equipped for all terrains with its all-wheel-drive capability, ensuring a smooth journey regardless of the destination.
Turbocharged and Connected
From a class-leading 281-horsepower turbocharged engine to an available hybrid powertrain, there's something for every need in the Santa Fe's impressive engine options. Coupled with cutting-edge technology, the vehicle is truly in a league of its own.
Hybrid Efficiency
The Santa Fe's 1.6-litre turbocharged hybrid engine packs a punch, delivering a peak 180 horsepower and 195 pound-feet of torque, ensuring you're never short on power while also enjoying impressive efficiency.
Ample Power
The Santa Fe offers a choice of powertrains. One standout option is the 2.5-litre turbocharged gasoline engine that delivers a staggering 281 hp and 311 pound-feet of torque.
Ready for Any Adventure
Premium features such as relaxation seats with leg rests, UV-C sterilization trays, dual wireless phone charging systems, panoramic curved screens, and more ensure that every journey is an adventure in luxury.
In Conclusion
The 2024 Hyundai Santa Fe is not just a vehicle; it's an experience. Melding daily urban comfort with outdoor readiness, it sets a new standard in the midsize SUV segment. Whether you're navigating city streets or exploring the great outdoors, the Santa Fe promises a journey like no other.