2024 Hyundai Kona
The 2024 Hyundai Kona, stepping into its second generation, presents potential buyers with a diverse engine lineup, notably including an electric variant with a 418-kilometer range. Beyond its electric capabilities, the Kona features two additional engine options, one found in the performance-oriented N Line. This revamped Kona not only boasts a roomier interior but also showcases a refined and aerodynamic exterior and a suite of modern technologies, marking a significant evolution in the Kona series.
Eye-catching Design
The 2024 Hyundai Kona is striking with its one-of-a-kind design that's certain to catch the eye.
Exterior
The 2024 Hyundai Kona's exterior design confidently differentiates itself on the market. Originally conceptualized as an electric vehicle, its design exudes a contemporary and refined visual signature. This version, wider and longer than its predecessors, enhances both its road presence and interior volume. Its dimensions, including a length of 4,350 mm and an extended wheelbase, not only amplify its road stance but also contribute to a roomier cabin.
Marrying practicality with elegance, the Kona's design emphasizes aerodynamic efficiency, evident from its impressive drag coefficient of 0.27. This focus on aerodynamics is further highlighted by its meticulously crafted front and rear tailgate. The chrome details, extending gracefully from the belt line to the rear spoiler, along with the integrated stop lamp, amplify its sophisticated road presence.
The electric model of the Hyundai Kona features a unique pixelated horizontal lamp and design elements, giving it a distinct look. This version incorporates advanced lighting technologies, elevating its aesthetic appeal. Paired with a range of striking exterior colors, the Kona is designed to capture attention on the streets. Hyundai's design team has crafted the Kona's exterior to be contemporary, unique, and elegant, ensuring it leaves a lasting impression wherever it goes.
Interior
The 2024 Kona showcases Hyundai's dedication to improving both practicality and the overall driving experience. The updated interior design emphasizes both the comfort of the passengers and efficient use of cargo space. No matter which Kona model is selected, its versatility and roominess are evident. The dashboard features a sleek horizontal C-Pad, which effortlessly incorporates dual 12.3-inch panoramic screens for multimedia and instrument cluster functions, making it modern without compromising ease of use.
The Kona's recent interior modifications highlight its focus on efficiency and usability. The placement of the shift-by-wire gear selector has been optimized to enhance the console area, leading to more intuitive controls for the driver and a roomier central console. Features like the rotating cup holder enhance its functionality. The reimagined front seats offer more leg space for those in the back, and the Curveless Bench Seat provides comfort for every passenger. Additionally, for those requiring increased storage, the back seats can be folded flat, revealing a spacious 723-litre area that can be extended to 1803 litres.
Digital Key
Technology The Hyundai Kona incorporates contemporary technology to bolster safety and user-friendliness. It features the Digital Key 2 system, which allows vehicle access and ignition through NFC-enabled devices, presenting an alternative to conventional keys. Additionally, this system facilitates the sharing of vehicle access with authorized users. The Surround View Monitor offers varied angles around the Kona, assisting in parking and maneuvering in confined areas. It can also help you identify sidewalks when parking in the city, and provides an enhanced view of the area in front of the vehicle.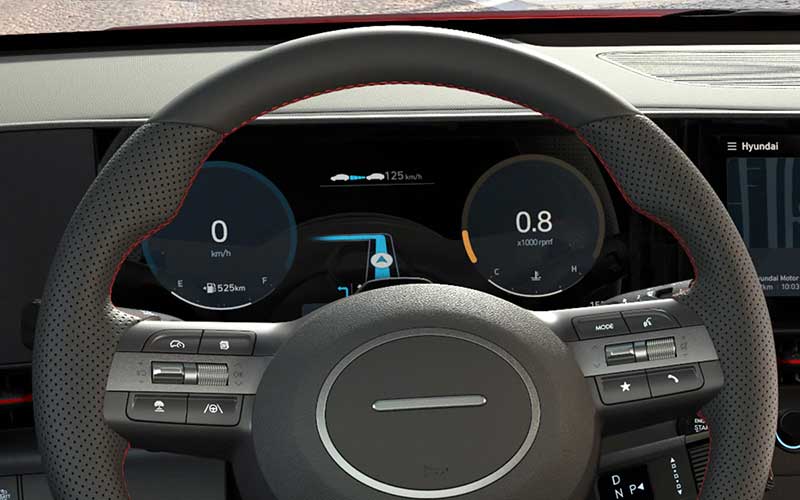 Features
The Kona Electric introduces specific technological enhancements, such as extra storage in the front, modifiable grille shutters, and the Vehicle-to-Load (V2L) function that supports two-way charging—beneficial during power outages or while outdoors. It also features the i-PEDAL, enabling drivers to control both acceleration and braking using a single pedal. This works in tandem with the Smart Regenerative System, which adjusts to traffic conditions, refining the vehicle's regenerative braking process. Overall, the latest Kona emphasizes safety, convenience, and intuitive technology.
New Versions
The second-generation Kona showcases a plethora of advanced technologies. These innovations position the 2024 Kona as one of the safest and most connected compact SUVs in its segment. It emphasizes the safety and connectivity of both the driver and passengers. Building on the success of its predecessor, the 2024 Hyundai Kona introduces significant advancements, setting a new benchmark in its segment.
Engine
The 2024 Hyundai Kona is meticulously engineered, striking a balance between performance and efficiency. It offers two traditional engines alongside an electric option to cater to varied driving needs. The 2.0-litre 4-cylinder Atkinson engine, designed for both performance and fuel efficiency, stands out with 147 horsepower and 132 pound-feet of torque.
Kona N Line
For enthusiasts, the Kona N Line, with its turbocharged engine, promises a more exhilarating drive with 195 horsepower and an impressive 195 pound-feet of torque.
Kona Electric
For those inclined towards an eco-friendly drive, the 2024 Kona Electric is equipped with a 64.8-kWh battery, promising a range of up to 418 kilometres on one charge.
Kona Electric Charging
Impressively, it can boost its charge from 10% to 80% within 43 minutes. With the electric motor producing 201 horsepower and 188 lb.-ft of torque, drivers can be assured of consistent power whenever they hit the accelerator.
Frequently Asked Questions about the 2024 Hyundai Kona
The 2024 Hyundai Kona is on sale now.
The 2024 Hyundai Kona is offered in multiple versions.
Essential FWD (Front-Wheel Drive): $25,999
Essential AWD (All-Wheel Drive): $27,999
Preferred FWD (Front-Wheel Drive): $28,499
Preferred AWD (All-Wheel Drive): $30,499
Preferred AWD Trend (All-Wheel Drive): $32,499
N Line AWD (All-Wheel Drive): $35,499
N Line Ultimate AWD (All-Wheel Drive): $38,499
Pricing for the 2024 Hyundai Kona Electric has not yet been released, but expect it to be eligible for both Canadian and provincial electric vehicle rebates.